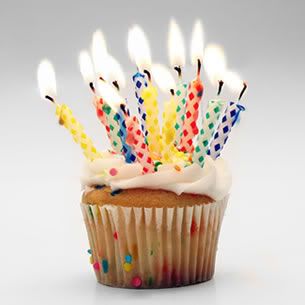 …and I wonder how many more there'll be. I wonder how many more I'll spend with cancer, and how many birthdays total I'll get to celebrate. I wonder if I'll finish this treatment, achieve the ever-illusive remission, and go on to bear my test-tube children and pay off debt for the next 60 years in familial bliss, or if it will just be my lot that this "good cancer" will screw me over again, and I'll spend the next few years in treatments, experimental drug trials, cancer centers – complete with laundry facilities and spas, no less – only to ultimately lose the battle.
I know you don't want to hear that...I'm sure it sounds just as morbid to you as it does to me. I'm also sure that as you read this, many of you are thinking "No, think positively, this will just be a blip on the radar, you're going to be fine." I know, I know. BUT even though it's not socially acceptable, and nobody wants to hear about it, these thoughts come into my mind…and I don't know what to do with them. No one wants to talk about them - everyone just wants to tell me not to have them. I guess that's what great about the blog…I can talk and talk and talk, and you can't interrupt me with your "positive thinking" mantra.
It's not that I don't believe in positive thinking…I do – and I practice it….but I don't think that it's natural or human to deny other non-positive thoughts or not to contemplate difficult subjects. I would be cheating myself of this experience if I didn't allow myself to feel everything that comes with it.
I did have a super wonderful birthday – celebrated Saturday and Sunday and Tuesday with truly loved people, ate lots of super yummy food and cake. I'd like to have lots more just like it...minus the cancer. I do, however, feel like this last year has aged me far more than normal....cancer and chemo took my 26th year of life, robbed me of youth and beauty and long blonde hair, and left me older and mousy brown. I am wiser, tougher, and more compassionate than before, but I am also physically and emotionally scarred, paranoid, and jaded. I'm not hopeless or deppressed. I think this treatment will work, I want it to work, and I will do everything they tell me with diligence and strength because I want to see what those frozen embryos turn out to look like, buy a house, have a fun career, retire to Mexico, etc. etc. etc.
I will think positively, I promise.
Otro cumpleaños con cancer...
…y me pregunto cuántos más habrá. Me pregunto cuántos más pasaré con cáncer, y cuántos cumpleaños más en total podré celebrar. Me pregunto si voy a terminar este tratamiento, lograr la tan ilusiva remisión, y seguir para dar luz a mis hijos probetos y pagar mis deudas en felicidad familiar, o si será mi destino que este cáncer "bueno" me joderá de nuevo, y viviré los próximos años en tratamientos, estudios clínicos, centros de cáncer – hasta con todo y centros de lavado y spas – sólo para perder la batalla al final.
Sé que no quieres escuchar eso…entiendo que suena igual de morboso para ti que para mí. Tambié sé que mientras lees esto, algunos de ustedes han de estar diciendo, "No, pero tienes que pensar positivamente, todo esto algún día va a ser un mal recuerdo, vas a estar bien." Ya lo sé. PERO, aunque no sea socialmente aceptable, y aunque nadie lo quiera escuchar ni pensar, estos pensamientos pasan por mi mente, y no sé qué hacer con ellos. Nadie los quiere escuchar – no más quieren convencerme de no tenerlos. Supongo que es lo bueno del mentado blog…puedo escribir todo lo que quiero, y no me puedes interrumpir con tu lema del "pensamiento positivo."
No es que no crea en el pensamiento positive, porque sí lo creo – y lo practico…pero no creo que sea natural ni humano negar que tengo otros pensamientos no tan positivos o de dejar de contemplar temas difíciles. Perderia parte de esta experiencia si no me permitiera sentir todo lo que conlleva.
Sí me la pasé super chido en mi cumple – lo festejé el sábado, domingo, y el martes con gente super querida, y comí mucha comida y pasteles super sabrosos. Me encantaría pasar muchos cumpleaños más así…sin el cáncer. Pero sí siento que este año pasado me ha envejecido mucho más que lo normal…el cáncer y la quimio me quitaron mi vigésimo sexto año de vida, y me robaron belleza, juventud, y mi cabello rubio, y me dejó más vieja y castaño claro. Soy mas sabia, mas fuerte, y mas compasiva, pero estoy físicamente y emocionalmente cicatrizada, paranoica, y cínica. No estoy deprimida ni tampoco he perdido la esperanza. Creo que este tratamiento va a funcionar, quiero que funcione, y haré todo lo que me digan con diligencia y fuerza porque quiero ver como resultan ser esos embriones congelados, comprar una casa, ejercer mi carrera, jubilarme en Mexico, etc, etc, etc.
Pensaré positivamente, lo prometo.