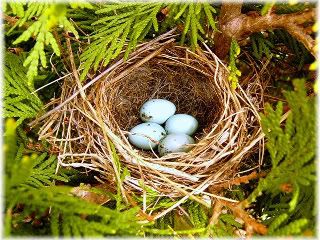 The Sparrow and the Hawk

by LFD – aka mom

Running errands this morning, the sun is shining and feels good.
The price of gas made me actually plan the trip - fewest miles for what I needed.
High above the hill that is Glisan west to Fred Meyer,
A red-tailed hawk is being pursued by a tiny sparrow.
The sparrow is pecking at the hawk's tail, then a wing.
The hawk seems hardly aware that it is the prey, not the predator.
The sparrow is fierce and unrelenting.
I stopped to watch. Nature is so fascinating. I usually think of it as something to be observed,
not something I am a part of.
I was impressed with the little bird's courage. What would motivate the tiny sparrow
to take on the hawk. Her nest, of course, her babies, tucked somewhere in the trees.
I got all teary.
I was no longer an observer, I was the sparrow attacking the hawk, that is cancer.
Stay away from my nest, leave by baby alone. This is a fight you will not win.
Unlike the sparrow, I am not alone.
Doctors, nurses, researchers, a whole cast of players,
lending their skills and knowledge, with compassion.
Family and friends - the wind beneath my wings,
to borrow a phrase.
Wind that is love, that lifts me up and allows me to keep going,
that allows me to focus on my Darcy, to do battle with the
hawk.
Cancer get away from my daughter, you cannot have her.
I didn't bring her into this world for you.
We are fierce and unrelenting.
And so thankful for all the blessings that are ours.
El gorrión y el halcón
por LFD – también conocida como 'mamá'

Haciendo el mandado esta mañana, el sol brilla y se siente rico.
El precio de la gasolina me hizo planear el viaje – entre menos millas mejor para lo que necesitaba.

En lo alto del cerro que es Glisan al oeste de Fred Meyer,
Un halcón de cola roja está siendo perseguido por un pequeño gorrión.
El gorrión está picoteando la cola del halcón, y luego una ala.
El halcón parece apenas estar consciente de que sea la presa, no el depredador.
El gorrión es feroz e implacable.

Me detuve para mirarlo. La naturaleza es tan fascinante. Normalmente pienso que es algo que se observa, y no algo de lo que yo sea parte.

Me impresionó la valentía de la pequeña ave. Qué le motivaría al pequeñito gorrión
A enfrentarse con el halcón. Su nido, claro, sus bebés, escondidos en alguna parte de los árboles.
Me empezaron a salir lágrimas

Ya no era yo un observador, yo era el gorrión atacando al halcón que es el cáncer.
Aléjate de mi nido, deja a mi bebé en paz. Esta es una pelea que no ganarás.

A diferencia del gorrión, yo no estoy sola.
Doctores, enfermeras, investigadores, todo un elenco de actores,
Prestando sus habilidades y conocimiento, y con compasión.
La familia y los amigos – el viento debajo de mis alas,
Para robar una frase.

Viento que es amor, que me levanta y me permite seguir,
Que me permite enfocarme en mi Darcy, para hacer batalla con el halcón.

Cáncer, aléjate de mi hija, no la puedes tener.
No la traje a este mundo para ti.
Somos feroces e implacables
Y tan agradecidas por todas las bendiciones que son nuestras.