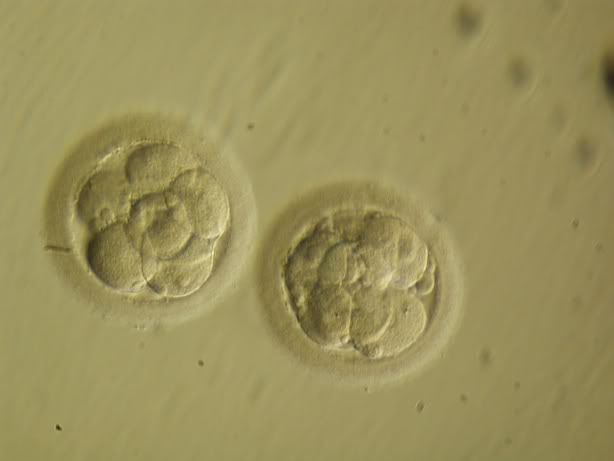 Update: On Thursday, we finished the embryo-freezing process…which, by the way, is a completely fascinating process - the science is amazing, and my fertility doctor, Dr. Matteri, is absolutely the best, my nurse clinician, Andrea Speck-Zulack, is amazingly supportive and knowledgeable and helpful, and their office, Oregon Reproductive Medicine, in conjunction with Fertile Hope (www.fertilehope.com) are helping make the whole thing more affordable, and therefore possible for me.
Anyway, I thought I would post at least the short version of how it goes, since it's so crazy and cool to me. They started out explaining everything, etc, etc, and checking with my oncologist to make sure it was ok to put treatment on hold for a month to get this done. Then, they did blood work on Luis and me, did an ultrasound (from the inside…never had that experience before…), and taught us how to administer the injections. Then, on day 2 of my cycle I started giving myself injections of Menopur and Repronex in the morning, and Follistrim (these medicines are to make the follicles or potential eggs in your ovaries mature and get big) in the evening, and they did another ultrasound to check on the developing follicles on day 5, another on day 8, and on that same day I started another injection at midday of Ganirelix (to prevent ovulation), another ultrasound on days 10 and 11 (finally kinda got used to it), and then last night (night of day 11) I gave myself a "trigger" injection of hCG that induced the final maturation of the eggs, and would have caused ovulation at like 40 hours after – but instead of ovulating, they went in at 36 hours after the trigger (Thursday morning at 8am), put me under a light general anesthetic, and went in and sucked out all the eggs! Luis also provided a "sample" of his own, and they fertilized the eggs, then froze the embryos.
After the procedure, I woke up, and they told me that they were able to get 5 eggs (a woman my age during this process should get like 15-20)…my first 8 months of chemo screwed me on that one….and then they called this morning to let me know that they were able to fertilize 3 of those (only 3 were mature enough)…then later when I'm done with treatment we'll see how many actually turn into babies. I realize that I may not actually walk away with a baby after all this is over…there is that chance…. but those three little frozen embryos are giving me a lot of hope and fuzzy warm feelings. I thought about naming them, but that might be going too far (I'm kidding, please don't write me and tell me I'm crazy)…it's just so totally amazing to me that there are three little random combinations of Luis and my genes sitting in a freezer in an office in NW Portland that someday could be a living, breathing (those are the best kind, so I hear) child that I'll carry, birth, raise, feed, love, teach to drive…it's crazy. How is that possible?
Through all this excitement, however, lies the ugly reality that now that this is over, I actually have to do the thing that's going to cause the infertility that provoked this process…and I don't want to. I want to put it off indefinitely…I got a twinge of nausea this morning from the antibiotics I'm taking post-procedure, and I cried with the memory of all those terrible days of chemo, and the realization that there are so many more to come. I looked in the mirror at my hair – that I have actually grown to think is cute – and cried thinking that I will have to go through that again. I read about the chemo doldrums of a Hodgkin's sister this morning, and as I reassured her that it would get better, I cried thinking that soon I will have a hard time convincing myself of that.
So, to sum up today, thank you Andrea and Dr. Matteri, and fuck you, cancer.
3 Bebés en el Conge…
Ahí les va lo último: El jueves terminamos el proceso de la colección de huevitos, y la congelación de los embriones. Tengo que decir que todo el proceso es súper fascinante…la ciencia no me deja de sorprender y dejar con la bocota abierta del asombro. También, le tengo que dar las gracias a mi doctor, Dr. Matteri, y la enfermera clínica, Andrea Speck-Zulack, por ser tan increíblemente amables, y de darme tanto apoyo. Junto con una organización dedicada a ayudar a pacientes de cáncer con cuestiones de infertilidad, Fertile Hope, nos están apoyando con una parte de la lana para que esto nos sea posible.
Para que entiendan un poco el proceso, aquí les voy a contar la versión corta de lo que nos hicieron durante todo esto…empezó todo por explicar el proceso y confirmar con mi oncólogo que sí nos podíamos posponer el tratamiento para el cáncer un mes para hacer todo esto. Luego, nos hicieron análisis de sangre a Luis y a mi, un ultrasonido, y nos enseñaron a poner las inyecciones de las medicinas. Luego, el día 2 de mi ciclo, empecé a darme las inyecciones en la mañana y en la noche para hacer crecer los huevitos, y me hicieron otro ultrasonido el día 5, otro el día 8, y ese día empecé una inyección adicional a mediodía que hacia que no ovulara para que los huevitos siguieran creciendo. Los días 10 y 11 me hicieron ultrasonido también, y en la noche del día 11 me inyecté por ultima vez con una medicina que provoca la ovulación a las 40 horas después. Pero, antes de esas 40 horas, el jueves a las 8am para ser exacto, me hicieron una pequeña cirugía (que gracias a dios me durmieron….zzzzzz) y sacaron los huevitos que habían crecido. Luis ese día también dio su "muestra", y fertilizaron los huevitos, y los congelaron.
Cuando me desperté, me avisaron que habían podido sacar 5 huevitos…que son poquitos para una mujer de mi edad, pero la primer ronda de quimio me jodió los ovarios….y me hablaron ahora en la mañana para avisarme que 3 de los huevos eran maduros y que los 3 fueron fertilizados exitosamente. Que chido. Ahora, pues todavía existe la posibilidad de que no terminemos con un bebé después de todo esto – el proceso no es perfecto, y puede ser que se dañen o que no crezcan a la hora de implantarlos…pero nos dan un chingo de felicidad que estén ahí, y mucha esperanza para hacer una familia. Se me hace tan increíble que sea posible que en un congelador en una clínica estén ahí tres pequeñas combinaciones de células que son parte de mi y parte de Luis que algún día pueden ser nuestros hijos. Que chingón poderles contar todo esto…que locura, la neta me tiene en un estado de asombro total.
Y aunque todo esto sea tan emocionante y tan chido, pues ahora tengo que enfrentar lo que pospusimos…la quimio que juré alguna vez que no volvería a hacer. La perspectiva cambia…sé que lo tengo que hacer…pero no quiero. Hoy ando de llorona…lloré en la mañana cuando sentí nausea de los antibióticos que tengo que tomar por la cirugía ayer….me acordé de los largos días de nausea y vómito – y pude prever los días que vienen con el nuevo tratamiento. Lloré cuando vi mi cabello que ahora ha crecido hasta el punto que hasta me gusta…pensé en cuándo se me caiga y tengo que ver la fea realidad del tratamiento en el espejo. Lloré cuando le escribí a una amiga que está haciendo su primer ronda de quimioterapia y le está sufriendo…le escribí y le dije que no más tiene que aguantar este rato, que entiendo que está de la chingada y que se cuide mucho y haga todo lo que pueda para sentir mejor….y pensé que no falta mucho para que yo esté en las mismas y que por mucho que lo intente, sé que no me voy a poder creer que vaya a terminar.
Así que el día de hoy, le doy las gracias a Dr. Materri y a Andrea por darme esperanza, y le mando mucho a la chingada al pinche cáncer por culero. Chingao.