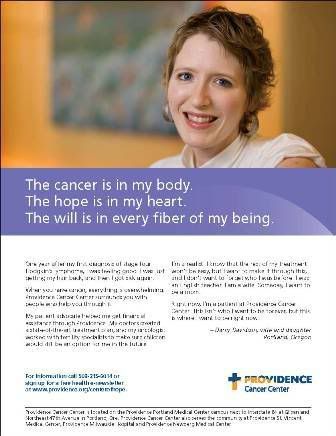 This ad featuring me and my old super great hair will be coming out in this Sunday's Oregonian, so be sure to buy one, or steal your neighbor's, clip out my ad, and save it for all time.
The text reads:
"One year after my first diagnosis of stage four Hodgkin's lymphoma, I was feeling good. I was just getting my hair back, and then I got sick again.
When you have cancer, everything is overwhelming. Providence Cancer Center surrounds you with people who help you through it. My patient advocate helped me get financial assistance through Providence. My doctors created a state-of-the-art treatment plan, and my oncologist worked with fertility specialists to make sure children would still be an option for me in the future.
I'm a realist. I know that the rest of my treatment won't be easy, but I want to make it through this, and I don't want to forget who I was before. I was an English teacher. I am a wife. Someday, I want to be a mom.
Right now, I'm a patient at Providence Cancer Center. This isn't who I want to be forever, but this is where I want to be right now.
– D, wife and daughter, Portland, Oregon"
Este anuncio, en el cual se destaca mi bellisimo ex-(y futuro) look, saldrá en el periódico el Oregonian este domingo. Es un anuncio que hice cuando hicieron el comercial para el hospital, y ya me escribieron y me pidieron permiso para publicarlo en el periódico...chidillo. Voy a comprar miles de periódicos y guardarlos para siempre :-)
Besos.

El texto dice:

"Un año después de mi primer diagnóstico de linfoma tipo Hodgkin, etapa cuatro, me sentía bien. Apenas se me empezó a crecer el cabello, y luego me enfermé de nuevo.

Cuando tienes cáncer, todo es muy abrumante. Providence Cancer Center te rodea de la gente que te ayuda a manejarlo. Mi asesor me ayudó a conseguir asistencia económica de Providence. Mis doctores crearon un plan de tratamiento de tecnología punta, y mi oncólogo trabajo con especialistas en fertilidad para asegurar que en el futuro tendría la posibilidad de tener hijos.

Soy realista. Sé que el tratamiento que me espera no va a ser fácil, pero quiero superarlo, y no quiero olvidar quien era antes. Fui maestra de inglés. Soy esposa. Algún día quiero ser mamá.

Ahora, soy paciente en Providence Cancer Center. No es lo que quiero ser para siempre, pero es en donde quiero estar por ahora.

- D, esposa e hija, Portland, Oregon"