The Story of My Neck/La historia de mi cuello
My neck and upper chest have been through a lot in the last few years…so here it is in photos for all you curious folk. Here's a note to all those with cancer – if you are going to have IV chemo, get a port. Simple. Looks gross, feels kinda gross, but you will be glad you did it.
Mi pobre cuello y la parte de arriba de mi pecho han sobrevivido mucho abuso en los últimos años, y aquí está a todo color para que lo puedan ver. Una nota para todos que tengan cáncer – si te van a hacer la quimioterapia, insiste en que te pongan un "reservorio" o "portacat" (que es un dispositivo que se coloca justo debajo de la piel y tiene un catéter que va a la vena subclavia para que entre la medicina directita al corazón (o bien cerquita pues). Facilita increíblemente el proceso…se ve un poco extraño y es otra cicatriz, pero vale la pena, créenme.
2/1/2007 – Sent these two pictures to my mom. I was living in Guanajuato, Mexico at the time and noticed that the cute little sexy depression between my collar bones had disappeared and something had taken its place…I wanted to see if she thought it was something I should worry about or if she thought I was being paranoid and silly. Silly me. Look at that…that's what cancer looks like…isn't that insane? Gross. Eventually it started pushing backward and affected my breathing and swallowing. I had the biopsy shortly after, and was diagnosed with Hodgkin's Lymphoma on 2/15/07.

1/2/07 – Le mandé estas fotos a mi mamá…era cuando estaba viviendo en Guanajuato, y había notado que el espacio entre los huesos del cuello se me había llenado de algo. En el correo que le mandé le pregunté que si pensaba que debería de ir con el doctor o si pensaba que estaba preocupándome por nada. Qué locura, no? Mira la foto…eso es cáncer creciendo en mi pecho, saliendo para que todos lo vean. Eventualmente empezó a crecer más y me afectaba al respirar o pasar comida. El 15 de febrero me dieron el diagnóstico de linfoma tipo Hodgkin.
Before/Antes
After/Después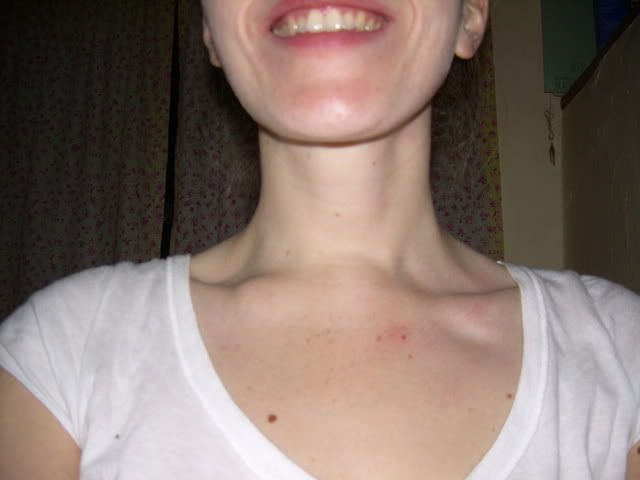 8/2007 – After 8 treatments of intravenous ABVD chemo, the veins in my arms were shot. I went for my 9th treatment and they sent me home after five nurses tried to get a line in. Chemo was also painful when it went directly into the veins in my arms…the last one of the drugs…(D is for Dacarbazine – anyone feel like writing a book with me?) really burned the inside of my veins, and even with lidocaine and ice packs I couldn't stand the pain after a while. They'd slow down the bag, and a half an hour of unbearable pain turned into an hour and a half of really uncomfortable pain. I wish they would have just knocked me out. Even today as I remember those days it makes me tear up…there was nothing I could do to make it stop, and there was nothing they could do to make it better, and we just had to do it. The port solved that issue (drugs go into bigger veins and are diluted faster – no pain). So here's the port after the port placement – it's a "power" port which means that it is a little cooler than regular ones because it can take a power injection (like the ones they use for CT scans) and it also makes you fly. Straight up.
8/2007 – Después de 8 tratamientos de quimioterapia ABVD, las venas en mis brazos se habían chingado por completo…ya no servían para nada. El día que fui para el noveno tratamiento me mandaron a casa después de que 5 enfermeras no pudieron ponerme el catéter en la vena. Fue una semana de vacaciones de la quimio, pero había que hacer algo. También, siempre me dolía mucho la quimio "D" (dacarbazine) de la mezcla…dolía un chingo, pero un chingo. Me hacía llorar del dolor…me ponían anestesia local en la piel, me ponían hielo, pero nada, nada, nada ayudaba. Un martirio fue…y hasta la fecha me da escalofrío pensar en la desesperación que sentía porque me dolía hasta la madre y no había nada que hacer al respeto…era una pinche tortura horrible, y el portacat alivianó todo eso – porque ponen la medicina en las venas grandes y se diluye más rápido y no duele. Aquí está la foto de después de la cirugía para ponerlo…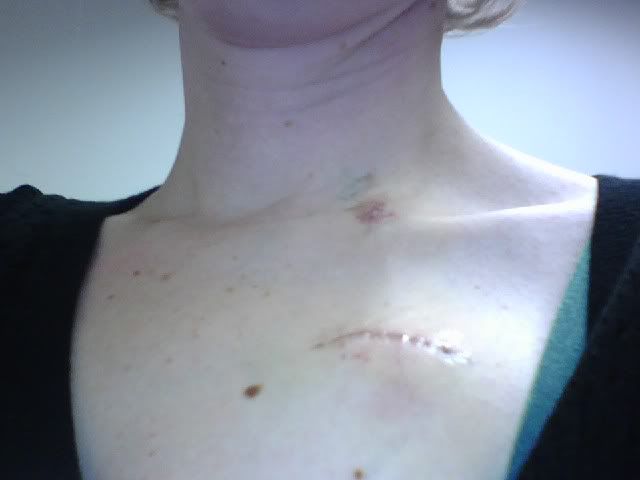 Fast forward…
More chemo, a relapse, and a stem cell transplant later here's what it looks like in my chest….kinda gross, kinda cool, but definitely unsightly for summer clothing and now totally unnecessary. I scheduled to have it removed…I had kinda been waiting to do that, not wanting to jinx the whole thing by taking it out…superstitious much? Geez. Anyway, it's stupid, I wanted it out and if for some reason they have to put one back in then I will deal with that then. Chances are fairly good that they won't, but again, don't want to jinx it so I'll just officially say that if cancer comes back they will put it back in, no big deal, move on.
Después de más quimioterapia, una recaída fea del cáncer, y un trasplante de células madre, así se ve el portacat. Está más o menos chido o interesante…pero se ve espantoso y gacho, y ya no es necesario, y ya no lo quiero. Así que pedí que me lo sacaran…y estas son las últimas fotos de su existencia en mi cuerpo. Sí, si regresa el cáncer algún día, lo pueden volver a poner…sé que eso es posible, mas ya es menos probable, y no hay pex.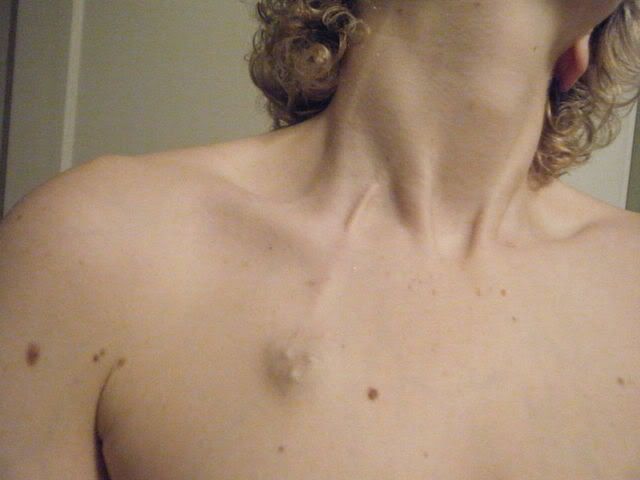 Final!
Here it is now! All done. It was a pretty easy removal…though I did insist on being asleep for the removal 'cause I get real anxious about the local-anesthetic-only procedures…it feels super gross and is totally nerve wracking and awful. It's getting much better and I think the scar is going to be minimal…but still visible, and that's ok. I will be happy to explain that it is evidence of a difficult fight that I am winning.
Así se ve ahora…listo. Me dieron anestesia general para quitarlo…insistí en eso porque no me gusta cuando quieren hacer las cosas con anestesia local…se siente horrible y me pone súper nerviosa. Sí que va a haber una cicatriz, pero creo que va a ser pequeña…y me gusta que esté ahí…es un recordatorio de una batalla difícil que hasta ahorita voy ganando.