I was released today from round #2 of ice…um, that really sucked. I won't spend three paragraphs detailing the unfortunate series of events, but rather will give you the Reader's Digest version. I was admitted on Thursday; started getting chemo; got really sick with a high fever Friday night and suffered only mildly lucidly through that until Sunday; Monday the fever broke and I got antibiotics; Tuesday they finally let me go home. I supercalifragiwhatever hate being in the hospital to the nth degree…June looks like it's going to be a fun month.
Hoy me dieron de alta de la segunda ronda de la quimio ICE, y dejenme decirles que estuvo del nabo. Pero decidi no durar tres párrafos detallando la muy desafortunadamente desagradable serie de eventos, sino darles la versión cortita pa' que no se me aburren. Me internaron el jueves y me empezaron a dar la quimio; el viernes en la tarde me enfermé con una fiebre de más de cuarenta grados, la cual sufri con muy poca lucidez y cordura hasta el domingo; el lunes la fiebre se me bajó y me dieron antibióticos; y el martes por fin me dejaron salir. Aborrezco con toda mi alma estar en el hospital, y pues todo parece indicar el junio no va a ser mi mes favorito.
The good news is that I had sort of a realization this weekend that I thought I would share with you. When Dr. Menashe was telling me Monday that I wasn't leaving until maybe Tuesday, I was really pissed. I had had enough of lying in that bed, never sleeping more than four hours straight, smelling the same smells, etc, etc, etc. I kept wanting him to say, "Ok then, you can go home now." But then I realized, he can't…the circumstances simply weren't such that I could go home. I realized that I keep expecting my doctors to save me from this thing…not to cure me and leave me to restart my life weakened, bald, scarred, and in fear of it coming back…but to take this away and give me back my old life.
Lo que sí les puedo contar bien es que tuve un momento de claridad y entendí algo muy importante. El lunes que me decía el Dr. Menashe que no me iba a poder dar de alta hasta 'tal vez' el martes pues estaba super encabronada. Ya me había hartado de estar acostada en la pinche cama, y sin dormir bien porque a cada rato entran para checar algo en la noche, y uuuuy de los olores a alcohol y limpiador, etc, etc, etc. Yo quería que me dijera, "Bueno, entonces te puedes ir hoy." Pero luego me cayó el veinte de que no podía…que simplemente la circunstancias no permitían que me fuera todavía. Me di cuenta de que del mismo modo, sigo queriendo que mis doctores me salven de esto…no de curarme y dejarme para reiniciar mi vida débil, pelona, cicatrizada, y con el miedo de que regrese….sino de quitarme esto y regresarme mi vida de antes.
That's what I really want is my old life back without the worry, fear, and all the ugliness of cancer. Dr. Menashe can't do that any more than he can turn water into wine (which would also be cool), but that has been my impossible expectation ever since this started. I need to figure out some way to come to terms with that, I guess, because it's not going to happen. I'll figure it out, because I just want more than anything to be as happy, smiley, and lovely as this girl again:
Eso es lo que realmente quiero – mi vida de antes…la recuerdo con un chingo de felicidad. En esa vida no conocía la preocupación, el miedo, y la fealdad del cáncer. El Dr. Menashe no puede darme eso tal como no puede convertir el agua en vino – que también sería chido – pero ésa ha sido mi imposible y estúpida esperanza desde un principio. Ahora sé que tengo que buscar la manera de conformarme con eso, porque esa vida ya no la puedo tener. Y sí lo voy a hacer porque más que nada, quiero ser tan feliz, risueña, y bella como esta chica:
December 2006 with my favorite neighbor ever, Lulu/Diciembre 2006 con mi vecina favorita, Lulu
July 2006 with my brand new husband/Julio 2006 con mi esposito nuevecito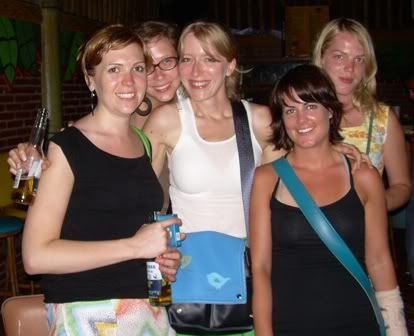 July 2006 out with my girls in Mazatlán/Julio 2006 con mis amigas de parranda en Mazatlán